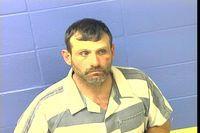 Formal charges have been filed against a Damascus man accused of attacking a Greenbrier educator on the side of the road in January.
Online records show that Edward Earl Bechtel, 44, was formally charged with first-degree battery and first-degree terroristic threatening charges after he reportedly attacked Pamela Nacke around midnight on Jan. 24 in the 180 block of Highway 124 West.
Nacke, who is a family and consumer science instructor at Greenbrier Junior High School, stopped to help Bechtel and his girlfriend after noticing he had crashed a white Jeep into the ditch in the Martinville area on the day in question. However, according to her statement, Nacke was attacked as she approached the couple to see if they needed help.
As she explained to Bechtel that her father lived nearby and had a tractor that could pull the Jeep out of the ditch, the Damascus man reportedly began screaming at Nacke and told her not to call police, according to the felony probable cause affidavit filed Wednesday against Bechtel.
At one point, Bechtel reportedly "got down in her face, close to her hear and asked her: 'Are you ready to die tonight?'"
Following the attack, the Greenbrier educator told investigators she remembered Bechtel "pummeling her with his fist and the back of his hands" after he tackled her to the ground, causing her head to bounce of the pavement.
Eventually, the Damascus man got up and walked back to the Jeep.
As he walked away, Nacke told investigators she believed in that moment he left to get a gun to kill her. She struggled to her hands and knees in an attempt to get away but instead was "Karate kick(ed)" back to the ground by Bechtel. This is when she broke her ankle, according to a report.
After she was kicked to the ground, Nacke said she crawled back over to her vehicle. However, as she made her way to her truck, Bechtel walked up, took her keys out of the vehicle and later tossed them in the brush.
Though she tried to call for help, there was no cell service in the area, the affidavit states.
While she was in her truck getting her phone, Bechtel "came rushing at her again and began hitting and kicking her."
"Pamela had wrapped her arms around the door frame trying to hold on as he slung her around, but he eventually overtook her and she fell to the ground again and the door was shut," the affidavit reads in part.
The Greenbrier educator began to pray out loud as Bechtel continued hurting her.
Eventually, the woman saw headlights approaching and "limped to the other vehicle."
Once inside the vehicle, she told the driver: "This man is trying to kill me, drive, drive drive."
Nacke was able to call 911 as they drove away, according to reports.
When deputy Mackenzie Gulley pulled up to the crime scene shortly after midnight on Jan. 25, there was a small fire inside the Jeep. Soon, the entire Jeep was engulfed in flames.
Once the Damascus man and his girlfriend, Brandalyn Fisher, were identified, authorities were able to track them down at a residence on Longtree Drive.
Upon his arrest, Bechtel admitted to attacking Nacke, claiming he believed she was among a group of people that had run him off the road.
"When Pamela Nacke stopped to check on them, he thought she was one of the people chasing them and that this is why he attacked her," the affidavit reads in part.
The Damascus man told police he was still wearing some of the clothes he wore when he reportedly attacked the Greenbrier instructor "because all of his other clothes were burned in the Jeep."
Bechtel is currently scheduled to appear Feb. 24 before Circuit Judge Charles "Ed" Clawson Jr. for a review hearing regarding the criminal case.