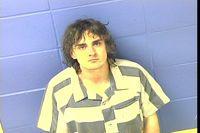 A Conway man accused of sexually assaulting a woman while she was sleeping in November was declared fit for trial earlier this month.
Nickolas Dee Rankin, 24, was arrested and charged with second-degree sexual assault in November 2019 after he reportedly touched a woman inappropriately while she was sleeping at a friend's house.
Defense attorney Otto Fry previously requested his client undergo a mental evaluation. During a brief hearing in Faulkner County Circuit Court on Monday, the defense attorney notified a circuit judge that Rankin was found fit to proceed with trial.
Now that his client has been found fit for trial, the defense attorney said he wanted more time to negotiate with prosecutors before setting a trial date.
"If we can't resolve it, I'll ask for a trial," Fry said.
Circuit Judge Troy Braswell Jr. said he would allow the defense team "additional time for negotiations" before moving forward in setting a trial date.
Before he walked away from the stand, the 24-year-old sexual assault suspect asked the circuit judge to consider lowering the $25,000 bond imposed against him.
"I've been in here since Nov. 9," Rankin pleaded.
The 24-year-old said he did not believe it was fair that he was behind bars because he reportedly violated the conditions of his probation in two prior, unrelated cases.
"Regardless of what happened on [your] revocations, you have a $25,000 bond on a Class B felony," Braswell said.
The sexual assault case against Rankin stems from a Nov. 9 incident where he inappropriately touched a Conway woman while she was sleeping, according to a probable cause affidavit.
The woman told police on Nov. 9 that Rankin first made her feel uncomfortable when she caught him masturbating from across the room.
According to the woman's statement, she was lying on the couch at her friend's house with her 7-year-old son when she looked up at 1:30 a.m. and saw Rankin touching himself under a blanket.
"Nickolas was laying on his back, masturbating while looking at her," the woman said, adding that "she saw his genitalia."
When the woman confronted the Conway man, he reportedly "ran to the downstairs bathroom."
Later that day, the woman said she woke up to Rankin touching her inappropriately.
"At approximately [9:45 a.m.], she woke up to Nickolas touching her breast and vaginal area," the affidavit reads in part.
"Upon Nickolas' realization of her consciousness, he turned around and went back to the pallet."
The 24-year-old Conway man is scheduled to appear next on June 16 in Faulkner County Circuit Court for a pretrial hearing in the case.